♥ FAQ - hair ♥
How do you get your hair that pretty gray colour?
I'm naturally a dark brunette – so my hair is bleached to platinum blonde first. I have it done professionally (something I strongly advise!!) so I'm not sure about the bleaching specifics – but it only takes one sitting!

I tone it at home myself with Fanciful's "Silver Lining" which is just a coloured mousse, so it washes out. The colour is so pretty it's worth the maintenance!
What dye did you use for your lilac hair?

When I'm bored with my hair, I tend to put pastels through it. The lilac colour I get asked about the most is just a custom mix I made using Fudge's "Purple Moon" paintbox dye. You don't need to use that one specifically to make it – just pick up any semi-permanent, blue-based purple dye and add a little of it to a bunch of hair treatment/conditioner and mix it up until you get the pastel shade you want. Apply to dry hair, leave for 15 minutes, rinse, blow dry, mermaid hair!
How do you get your hair so big?

Incredibly easy – I tease it, and use a freeze-hold hairspray. I used to tease it up super big when I was a teen (and then some) but prefer sleeker barbie hair these days! Also, hair extensions help add volume!
What shampoo/treatment do you use?
Shiseido's Tsubaki range. In love. I use the series with the red packaging – it's all in Japanese so I don't really know what it's called, but this is what it looks like: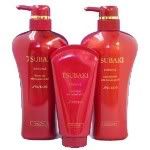 Who is your hairdresser?
John at Furr in Newtown, Sydney. He's been doing my hair since I was 17 – I love him! All his staff are cute, friendly & extremely well trained. Plus, their salon walls are painted by me. http://furr.com.au/